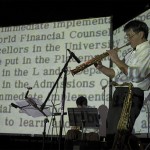 Featuring: Wayne Wallace, Murray Low, David Belove, Colin Douglas, Francis Wong, Jon Jang, Deszon X. Claiborne, Tatsu Aoki
   Wednesday, May 23, 2012 / 8pm 
   Hall of Culture, African American Arts and Culture Complex (AAACC)
762 Fulton Street, San Francisco, CA 94102
Admission: $15 advance online, $20 at the door
Five-time Grammy nominee, 
WAYNE WALLACE
, is one of the more respected exponents of African American-Latin music in the world today.  He is an accomplished trombonist, arranger, educator, and composer with compositions for film and television.  Wayne will lead a stellar ensemble featuring Murray Low, piano; David Belove, bass; Colin Douglas, drums. 
http://www.walacomusic.com/ 
Creative Director and co-founder of Asian Improv aRts, saxophonist/composer FRANCIS WONG, is celebrated internationally for his role in sharing the experiences of Asians in America through music and interdisciplinary collaborations.  His ensemble will feature Jon Jang, piano; Deszon X. Claiborne, drums; and Tatsu Aoki, bass. http://www.franciswong.net/ 
Photos by Andy Nozaka and Dennis Scherzer
For more info, email Lenora@asianimprov.org, visit 
www.asianimprov.org 
, or call (415) 908-3636
---
  Please watch the KPIX CBS Channel 5 news at 6pm on Wednesday, May 9th  to see Linda Yee featuring CHSA exhibits and programs.  She speaks with CHSA director Sue Lee and "Passages" installation artist / dancer Lenora Lee.  Special performance by Lenora and Francis Wong.
---
---