Within These Walls premieres 9/9 – 9/17/17 on Angel Island!
PLEASE NOTE:
The performance admission + ferry ticket packages we offer only leave from Pier 41 in San Francisco on the Blue & Gold Fleet.
If you plan to take the Angel Island Tiburon Ferry, purchase the Admission Only tickets on our ticket site. Then purchase Tiburon ferry tickets on board the ferry with cash or check.
The last day to purchase the Admission + Roundtrip ferry package and Shuttle tickets for the 9/9 & 9/10 performances on our ticket site is Tuesday, 9/6!
https://www.eventbrite.com/e/within-these-walls-tickets-36488901286
The last day to purchase the Admission + Roundtrip ferry package and Shuttle tickets for the 9/16 & 9/17 performances on our ticket site is Tuesday, 9/12!
After that you must purchase Admission Only tickets on our ticket site and stand in line at the Pier 39 / 41 Blue & Gold Fleet Box Office, or board the Tiburon Ferry to purchase ferry tickets separately. You may be able to purchase Shuttle tickets from our Angel Island dock Group Leader if they are still available.
On the day of the performance, those who purchased online the Admission + Roundtrip ferry tickets or Shuttle tickets – arrive early to meet our Pier 41 Group Leader wearing the Fluorescent Yellow vest here by the topographical map between Pier 39 & 41 to pick up your tickets.
If you need to buy ferry tickets on the day of the performance, arrive early to stand in line at the Blue & Gold Fleet Ticket Booth between Pier 39 & 41.
Once you have your ferry tickets go to Gate 1 or 2 at the Pier 41 dock to board for Angel Island.
CLICK HERE for information about the Tiburon Ferry.
If you purchased Admission Only tickets and Shuttle tickets, and ride the Tiburon ferry, you can pick up your Shuttle tickets from our Angel Island dock Group Leader in the Fluorescent Yellow vest once the ferry arrives on the Island.
____________________
Asian Improv aRts, API Cultural Center, Chinese Historical Society of America, and
Angel Island Immigration Station Foundation present
The World Premiere of
Within These Walls
A new multimedia immersive dance experience by Lenora Lee Dance
At the Angel Island Immigration Station, San Francisco Bay
Saturdays & Sundays, 9/9, 9/10, 9/16 & 9/17
11am-12pm & 12:30-1:30pm
Performances will begin on time, please arrive early.
Due to the nature of this performance with multiple dances and character narratives unfolding simultaneously throughout the Immigration Station, we recommend you see the performance more than once. It will never be the same experience twice! See ticket options for details on discounted tickets to see the performance twice in one day.
What The Press Is Saying About Within These Walls:

There will also be free screenings of LLD's recent dance films in the Immigration Station Mess Hall held simultaneously at 11am and 12:30pm for ticket holders. These films were created in collaboration with acclaimed filmmaker Tatsu Aoki. Come early or stay after the performance to see the films!
Those attending one of the 9/16 or 9/17 performances may be captured on film and are asked to sign a Release Form, as we are building an experimental dance film of the Within These Walls performance piece. If you prefer to not be captured on film, please attend one of the 9/9 or 9/10 performances.
Click here for Tickets, Transportation & Details
For more info: www.LenoraLeeDance.com
For questions or high resolution images, email LenoraLeeDance@gmail.com, 415-816-9376
Please Note:
– Comfortable footwear is encouraged.
– Guests may encounter situations in close proximity with performers.
– We encourage guests with special needs to contact us prior to arrival at: LenoraLeeDance@gmail.com or (415) 816-9376
____________________________
Join us for the excursion and adventure!

CLICK on the blue "SELECT A DATE" button, then on the green "TICKETS" button to see PERFORMANCE ADMISSION + TRANSPORTATION DETAILS. Group rate available. Email LenoraLeeDance@gmail.com to inquire.
SAN FRANCISCO DEPARTURES: Company: Blue and Gold Fleet
SUGGESTED TRANSPORTATION TIMES:
Outbound Angel Island Ferry Options
Departs Pier 41 at 9:45am, arrives on Angel Island at 10:10am

Ride the 10:30am shuttle to the Station
See either the 11am or 12:30pm performance
See the 11am or 12:30pm films in the Station Mess Hall
Departs Pier 41 at 11:15am, arrives on Angel Island at 11:45am

No shuttle available. You must walk 25-30 minutes or bike to the Station
See the 12:30pm performance after making your own way to the Station
Please check this website in August for updated ferry schedulehttp://www.blueandgoldfleet.com/ferry/angel-island/
Return to Pier 41 Ferry Options
Departs Angel Island at 2:05pm, arrives at Pier 41 at 2:55pm
Departs Angel Island at 4:25pm, arrives at Pier 41 at 5:30pm
Please check this website in August for updated ferry schedulehttp://www.blueandgoldfleet.com/ferry/angel-island/
TIBURON DEPARTURES: Company: Angel Island Tiburon Ferry
Departs Tiburon hourly from 10am until 5pm
Departs Angel Island hourly from 10:20am until 5:20pm
Those wanting to leave from Tiburon must purchase theGENERAL ADMISSION ONLY, ARTS PATRON ADMISSION ONLY, or STUDENT ADMISSION ONLY ticket options. Ferry tickets available for purchase at the facility as you board the ferry with cash or check ONLY. No advanced ferry ticket purchases. See those options and this linkhttp://angelislandferry.com/schedule/ for more details.
ANGEL ISLAND SHUTTLE (can be purchased on this Eventbrite site, see TICKETS – LIMITED AVAILABILITY)
Departs promptly from the Angel Island Cafe at 10:30am
Departs Immigration Station 12:45pm and 3pm
Visit http://angelisland.com/usis/ for more info.
If a shuttle is not available at your desired time, walking to and from the Immigration Station takes 25-30 minutes each way. Maps are available at the Angel Island dock.
PARKING OPTIONS at Pier 41, San Francisco
Academy of Art parking lot on Beach & Stockton Streets ($30 all day)
2210 Stockton St between Northpoint & Bay ($25 all day)
Taking public transportation, taxi or Lyft are good options as well.
PARKING OPTIONS by Tiburon dock

Tiburon Parking information can be found online here:http://angelislandferry.com/parking-information/. Parking is between $5 and $15 for the day.
For more info: www.LenoraLeeDance.com, emailLenoraLeeDance@gmail.com, or call (415) 816-9376
Lenora Lee Dance (LLD) celebrates its 10th Anniversary Season with the World Premiere of Within These Walls, a new site-specific immersive multimedia dance experience premiering in a two-week run 9/9 – 9/17/17 on the Angel Island Immigration Station, San Francisco Bay. This work for 14 performers, integrating contemporary dance, video projection, recorded original music, and poetry, will serve as a meditation on healing, resilience, and compassion. Inspired by experiences of those detained and processed on the Station, Within These Walls will transform and animate these historic spaces into sites for remembrance, as part of a community-wide commemoration of the 135th Anniversary of the 1882 Chinese Exclusion Act, speaking to the power of individuals and communities to transcend.
Audiences will travel through a labyrinth of rooms throughout the historic two story building in an intimate interactive environment, a tapestry of movement, sound, poetry and film integrated throughout the inside and outside of the building, and within the walls.
Conceived, produced & directed by Lenora Lee
Choreography by Lenora Lee in collaboration with performers Yao Dang, Lynn Huang, Timothy Huey, Hien Huynh, Carl Irons, Eric Koziol, SanSan Kwan, Wayne Tai Lee, Kevin Lo, Chloe Luo, Johnny Nguyen, Shannon Preto, Yi-Ting Hsu, Stacey Yuen
Music score by Francis Wong and Tatsu Aoki, with Kioto Aoki, JoVia Armstrong, Rami Atassi, Jonathan Chen,Suwan Choi, Deszon X. Claiborne,Coco Elysses, Jason Kao Hwang, Michael Jamanis, Jamie Kempkers, Chad Taylor, Edward Wilkerson Jr., Michael Zerang
Poetry & text by Genny Lim, Wong Gung Jue, and Immigration Station detainees
Voiceover by Lynn Huang, Hien Huynh, Todd Nakagawa, Johnny Nguyen, Shannon Preto
Media Design by Olivia Ting
Videography directed by Lenora Lee
filmed by Lenora Lee, Shannon Preto, Olivia Ting
edited by Tatsu Aoki, Lenora Lee, Olivia Ting
LLD's work integrates contemporary dance, film, music, and research and has gained increasing attention for its sustained pursuit of issues related to immigration, global conflict, and its impacts, particularly on women and families.
"We strive to generate artistic work that engages deeply the connections between individuals and their experiences, and community and collective memory, through creative processes, research, and public involvement." – Lenora Lee
"What struck me most was how Lee managed to embed the narrative into the installation's structure. So many different things were happening all at once and no one could predict what was going to occur, or when, or where… it shows how carefully Lee wove the narrative into everyone's experience, including the viewer's." – Heather Desaulniers, Dance Commentary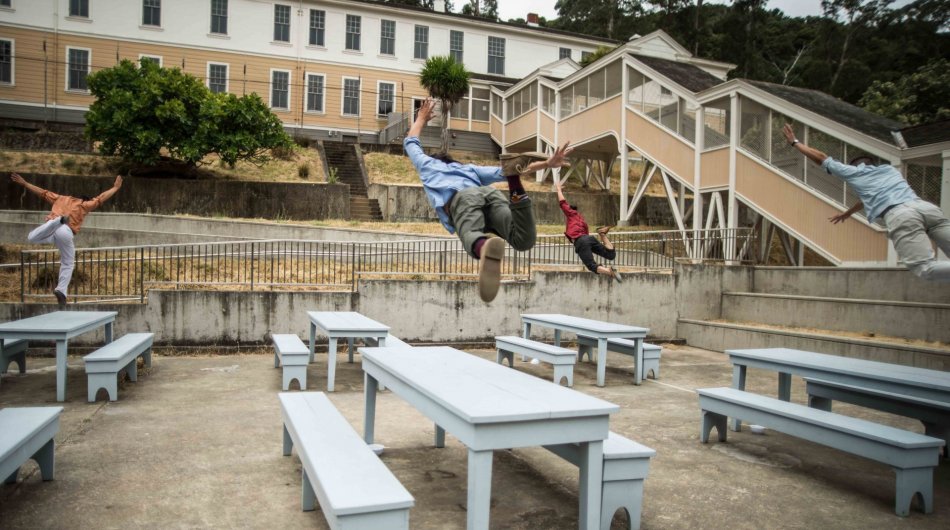 BACKGROUND
From 1910 to 1940, Angel Island was the site of an Immigration Station that functioned as the West Coast equivalent of Ellis Island, although the Angel Island facility also enforced policies designed to exclude, rather than welcome, many Pacific Coast immigrants coming from eighty two countries. The processing time for most in the Station was two-three days, however for Chinese, the average was 3 weeks to 3 months of detention. One individual spent 22 months in the station.
In 1970, the site was slated for demolition because of its deteriorated condition; but the discovery of Chinese poetry that had been carved into the walls of the detention barracks saved it from destruction and led to renewed interest in the Angel Island Immigration Station. It increased awareness of the need to access the vivid lessons of sacrifice and triumph in the history of immigration. As a result of a broad advocacy campaign, funding was secured to preserve the site and to open the barracks to the public in 1983. Out of the community campaign the Angel Island Immigration Station Foundation (AIISF) was founded to continue preservation and educational efforts for the site, and to increase awareness of the contributions Pacific Coast immigrants make.
The mission of the Angel Island Immigration Station Foundation (AIISF) is to promote a greater understanding of Pacific Coast immigration and its role in shaping America's past, present and future. In partnership with the California State Parks, AIISF educates the public about the complex story and rich cultural heritage of Pacific Coast immigrants and their descendants.
LENORA LEE DANCE
The company is directed by San Francisco native Lenora Lee, who has been a dancer, choreographer and artistic director for the past 19 years in San Francisco, Los Angeles and New York. In 2013 she was an Artist Fellow at the de Young Museum, a Djerassi Resident Artist, and was a Visiting Scholar at New York University 2012-2016. She is currently an Artist in Residence at Dance Mission Theater. LLD creates works that are both set in public and private spaces, intimate and at the same time large-scale, inspired by individual stories as well as community strength. For the last ten years, LLD has been pushing the envelope of large-scale multimedia dance performance that connects various styles of movement and music to culture, history and human rights issues. Its work has grown to encompass the creation, presentation and screening of films, museum and gallery installations, civic engagement and educational programming. www.LenoraLeeDance.com
Within These Walls is supported in part by California Arts Council, San Francisco Arts Commission, Zellerbach Family Foundation, Portsmouth Plaza Parking Corporation, Fleishhacker Foundation, San Francisco Grants for the Arts, OCA San Mateo, Dance Mission Theater and to Generous Individuals. Special thanks to Casey Dexter-Lee & California State Parks, Grant Din and Penelope Wong.
photos by Robbie Sweeny featuring:
Johnny Nguyen
Johnny Nguyen & Eric Koziol
Lynn Huang, Eric Koziol, Yi-Ting Hsu
Yao Dang, Yi-Ting Hsu, Stacey Yuen, Chloe Luo
Kevin Lo, Johnny Nguyen, Hien Huynh, Wayne Tai Lee
Kevin Lo & Stacey Yuen
Johnny Nguyen & Chloe Luo
Yao Dang, Stacey Yuen, Chloe Luo, Yi-Ting Hsu
Hien Huynh & Lynn Huang
Hien Huynh